
RC MODEL STORE The Fastest growing name in Radio Control

RC MODEL STORE The Fastest growing name in Radio Control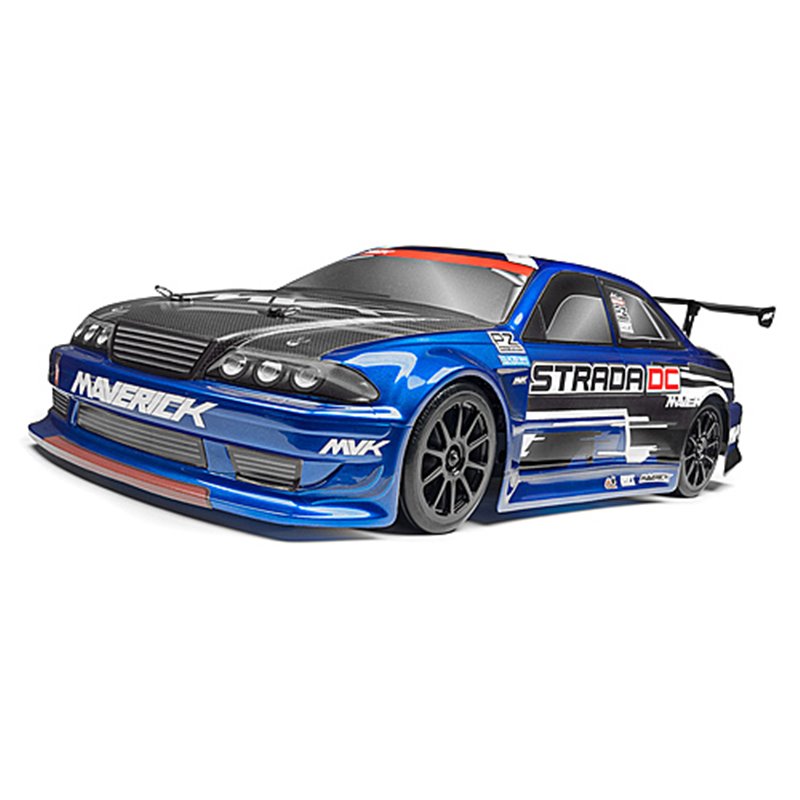 
Maverick STRADA DC 1/10 4WD ELECTRIC DRIFT CAR MV12618
Suppler Stock 1-2 Days
For ultimate on-road style and attitude, there's no beating drifting! With the Strada DC, you get a powerful 4WD touring car chassis with a shaft drivetrain, fully tunable racing suspension and locked rear diff for true drifting action! Topped with an import-style bodyshell and huge rear wing, this car gives you ultimate street style for real sideways action!
The Strada DC features a moulded tub chassis that provides durability and a stable and tough platform for a strong 4WD shaft drivetrain. Pre-built oil-filled shock absorbers and dual-wishbone independent suspension front and rear, give you supreme confidence on all driving surfaces. The MS-22 servo controls the steering through a dual-point steering system that features an integrated servo saver to protect the servo against crash damage.
The Strada 4WD drivetrain uses efficient ball bearings throughout to give drivers maximum runtime and efficiency, and features a molded gear cover to keep dirt and debris away from the gears. Front and rear gear differentials easily transfer the motor's power to the pre-mounted tires at all four corners.
Maverick Strada DC Kit Features:
MM-22 powerful 540 motor
MSC-30BR-WP forward/reverse waterproof speed control with 12-turn brushed motor limit
MBP-22 1800mAh Ni-MH battery included with Tamiya battery plug
MS-22 high-strength steering servo
MTX/MRX-243 2.4GHz transmitter and receiver with built-in failsafe
Moulded tub chassis with optimised weight distribution
Fully adjustable suspension
Battery strap will accept both stick packs and side-by-side cells
4 oil-filled rebuildable shocks with coil-over springs
Aluminum gold anodised shock tops
Fully independent double wishbone suspension
Tough C-hub front steering knuckles
Tough efficient 4wd shaft drive train
Fully ballraced drive train
Aluminum gold anodised upper deck
Aluminum gold anodised lightweight centre shaft
Pre-cut body factory-finished
Fully adjustable turnbuckles all round
Front and rear moulded bumpers
Twin-point steering with integrated servo saver
Aluminum gold anodised motor heatsink
Moulded protective gear cover
Includes:
7.2V 1800mAh Ni-MH battery stick pack
Multi-region wall battery charger
Items Required:
No customer reviews for the moment.
Customers who bought this product also bought:
15 other products in the same category:
£332.99
£359.99
Regular price
-7.5% off
Price
£279.99
£309.99
Regular price
-£30.00 off
Price
£388.49
£419.99
Regular price
-7.5% off
Price
£952.74
£1,029.99
Regular price
-7.5% off
Price
£459.99
£489.99
Regular price
-£30.00 off
Price
£344.10
£370.00
Regular price
-7% off
Price
£665.99
£719.99
Regular price
-7.5% off
Price
£665.99
£719.99
Regular price
-7.5% off
Price
£332.99
£359.99
Regular price
-7.5% off
Price
£130.19
£139.99
Regular price
-7% off
Price
£414.99
£429.99
Regular price
-£15.00 off
Price
£143.38
£155.00
Regular price
-7.5% off
Price
£114.99
£154.99
Regular price
-£40.00 off
Price